Millions of people are in debt and vulnerable right now. But Y3S can help.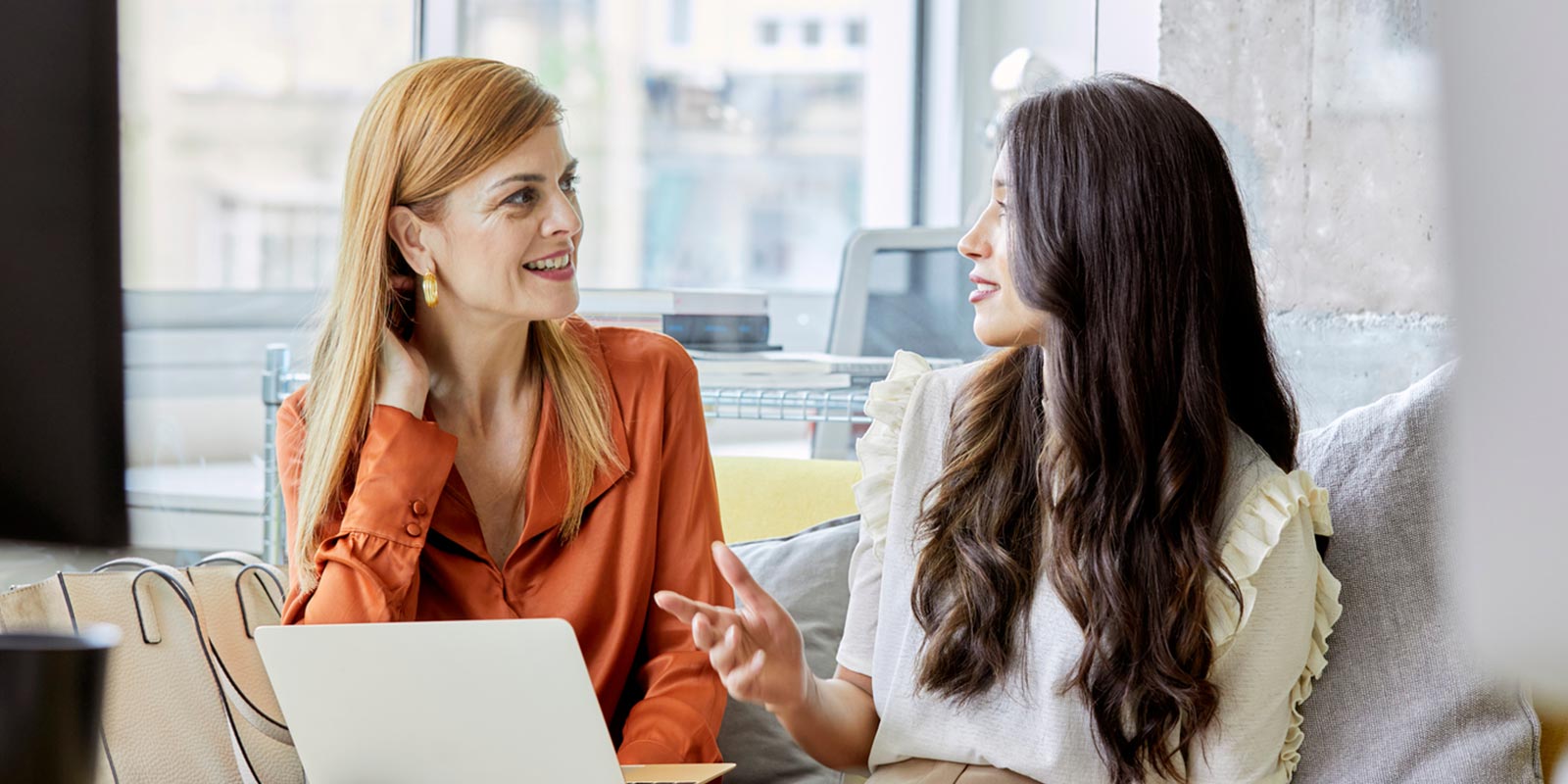 The UK is seeing a growing number of people in debt. Figures released in July* show we collectively owed £1,810.7 Billion – that's up £69.4 Billion in a year.
Many people aren't facing their problems and keep borrowing to stay afloat. Research for the Bank of England revealed that in 2021, the number of people struggling with large debts increased by a third.
With rising inflation, energy bills, and interest rates, the situation only seems set to get worse.
The banks aren't doing enough
We believe banks need to be funding more. And the highly respected financial broadcaster and journalist Martin Lewis agrees that there's "a critical problem of debt support funding from UK banks".
That's why we take a different approach. To help our financial intermediaries deliver the finance their customers need reliably, quickly, and without fuss.
Equally important, it's a win-win for intermediaries because our team of mortgage experts deals directly with their clients, taking the administrative and regulatory pressures off their hands.
We're the UK's largest specialist finance packager
Our whole of market offering for specialist mortgage products and high-level relationships with lenders means we can be trusted to meet customers' needs with the most suitable product every time.
With the forever increasing number of customers needing to consolidate debts, we calculate the total cost for every line of credit and compare this to the cost of consolidating. We carefully discuss each debt, ensuring full understanding throughout. We then create a bespoke report for the customer, for their consideration and reflection. If consolidation increases the cost for the customer, it's our job to really understand why it makes sense, and of course, no two customers' circumstances are the same.
*Office for National Statistics.
Case Study - Meet the Jones family
Here's a recent, all too familiar, example.
With a current monthly disposable income of just £6.64, Mr and Mrs 'Jones' were borrowing more and more each month to pay for their children's education and modest living. They had no quality of life and the stress within their household was "unbearable".
The Jones' first approached their bank who turned them away as a result of having too many debts, so they then called their financial adviser who confirmed their mortgage company would not consider them for the same reasons.
The clients were then referred to us.
They agreed with the plan of taking out a second charge mortgage to pay off the majority of their debts, wiping their slate clean. This would hopefully enable them to remortgage in two years' time to provide further savings.
As their intention was to remortgage, they needed to maintain their excellent credit rating. Entering into an agreement to reduce the monthly payments with each existing lender was not an option, as this would adversely affect their rating, and potentially prevent them from remortgaging as intended.
Enter our advisor James…
We understand that the right mindset can't easily be taught. We don't recruit our people based on their skills and experience; instead, we focus on values and attitudes –and provide industry-leading training and development for the rest. This means that our people always take full ownership of your case, providing a single point of contact, finding ways to be flexible, and overcoming any challenges along the way.
In the case of the Jones family our advisor, James Ioele, painstakingly analysed their debts and discussed every line of credit to find a way to increase their disposable income.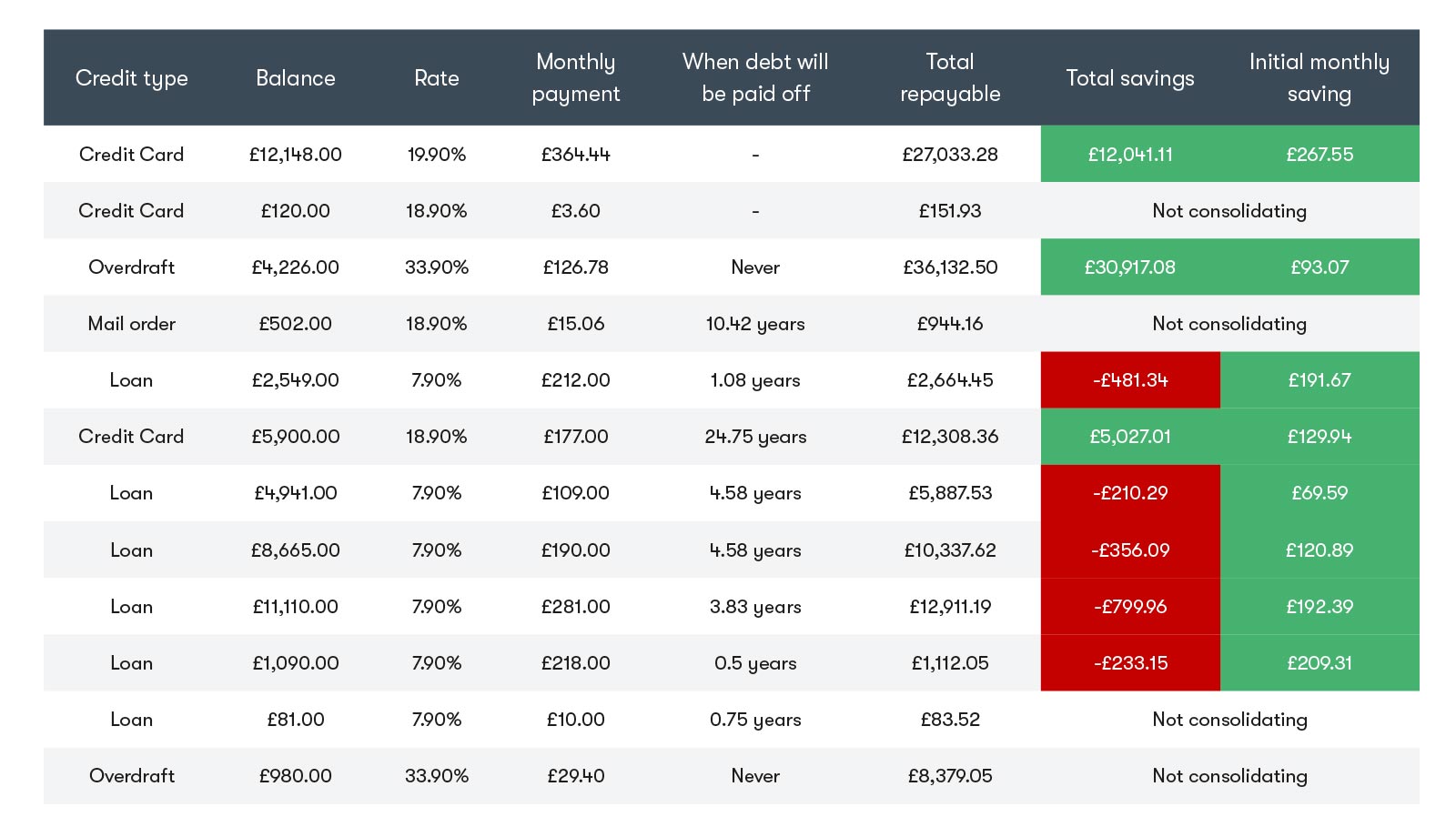 James then assessed the impact of consolidating on the customer's monthly disposable income and saw that this rose from £6.64 to £1,277.97 and he saved the family a grand total of £45,904 over the duration of all their loans.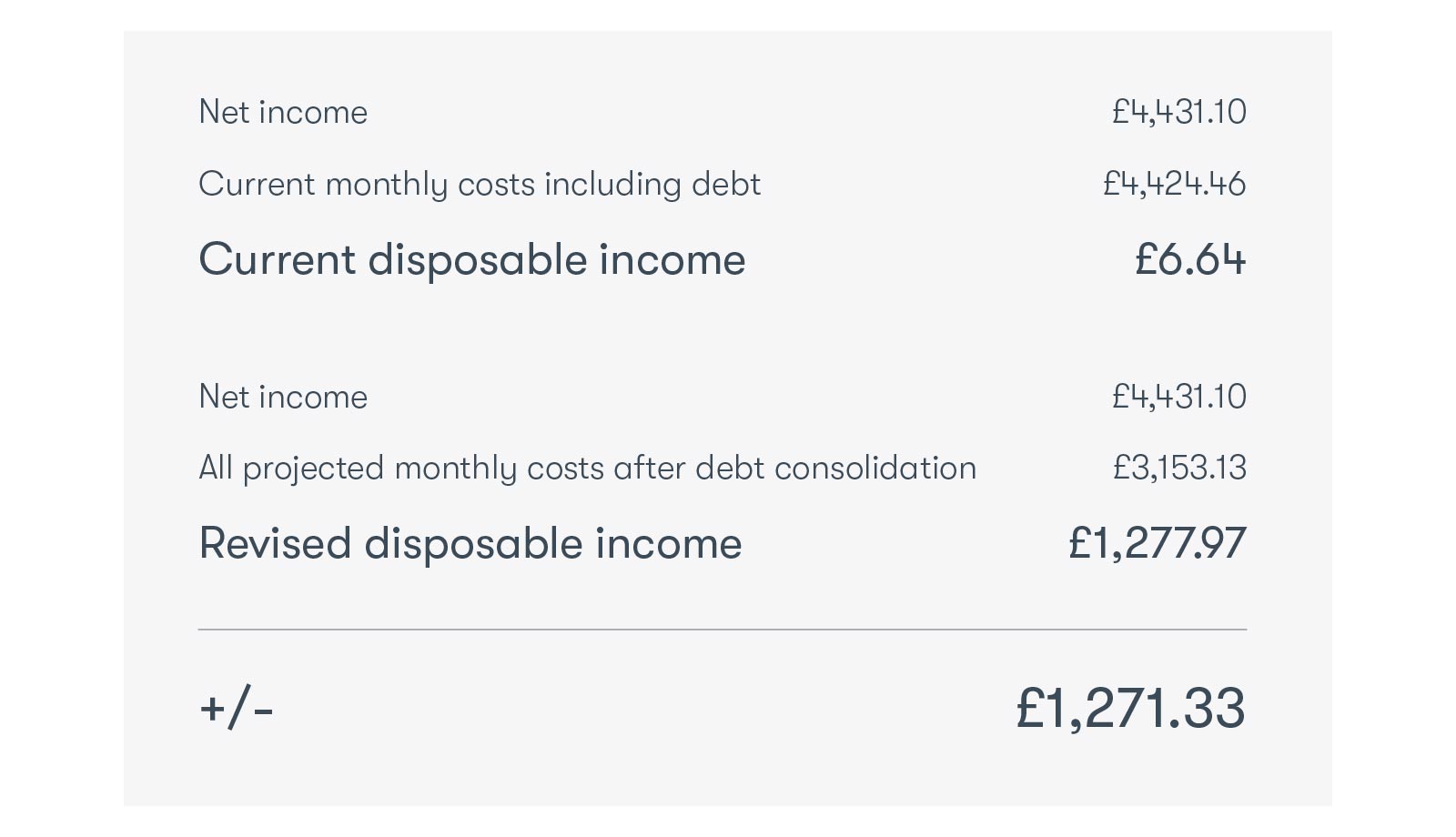 We helped the Jones family breathe again
Although aware of the extra costs of consolidating on certain lines of credit, the overall impact on Mr and Mrs 'Jones' made a significant improvement to the quality of their lives. Not only has our advice given them the breathing space they desperately needed, but it reduced the stress within their household. It's also given them a solid plan to 'start again' and prepare for remortgaging in 2 years' time which, subject to interest rates, could further increase their disposable income.
Mr Jones said "I am lucky enough to have Y3S recommended to me, the dedication and endeavour shown by this company through what were trying circumstances cannot be overrated. Definitely 5 star service."
Referring clients couldn't be easier
At Y3S we've packaged billions of pounds of specialist mortgage enquiries on behalf of the country's most established lenders over the last 20 years. When our intermediaries refer clients to us, they can count on a dedicated account manager (like James) to take ownership of the case from start to finish. So they won't be passed from pillar to post, and our deep experience and flexibility means we'll get over any challenges along the way.
We've developed and nurtured key partnerships with the UK's leading specialist lenders, leading to director-level relationships. Today, over 50% of our business is completed 'outside of criteria' as we make the most of the unique and flexible referral arrangements we've established with lenders.
Here's what some of our introducers say about our service:
"All the competition claims they're better but simply don't deliver on quality, speed and overall peace of mind."
Sean Bowling
SBL Financial
"I have worked with Y3S for many years and they've always looked after my clients with great care, in the same way as I do. Thank you Y3S"
Paul McMath
Prosper Home Loans
"The personal service Y3S provides is brilliant. Very professional, caring and thorough."
If you have customers needing help, call us on 0845 466 6565 or visit www.lenderlink.co.uk for product sourcing.
Y3S. It's completely taken care of.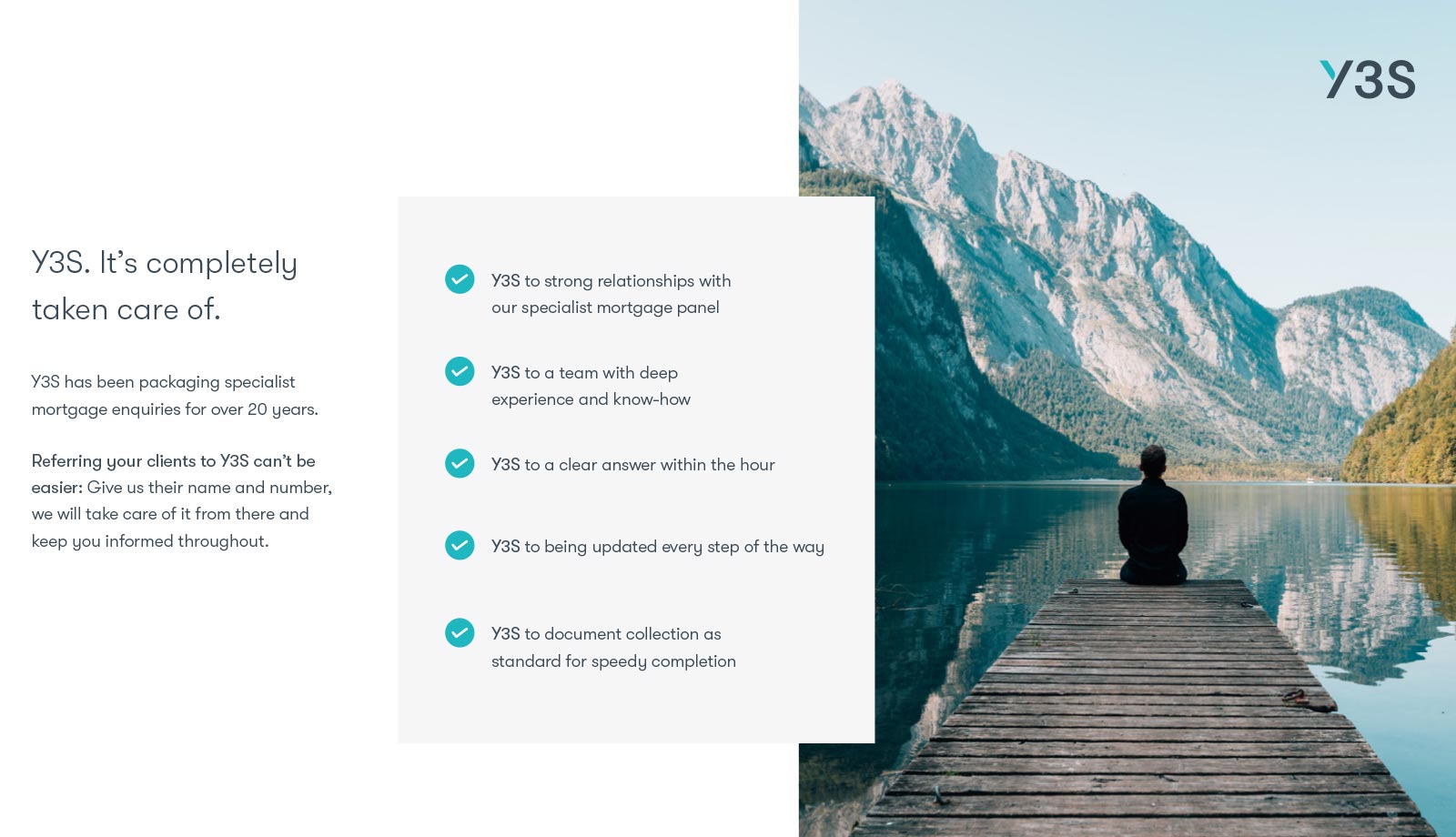 You can trust us to look after your clients and keep you updated every step of the way – and you don't have to just take our word for it. Our Platinum Feefo rating – for four consecutive years – shows just how far our exceptional service goes and know-how reaches.
Sign up for the latest news and updates
Any personal data you provide is subject to Specialist Mortgage Group's privacy policy